'Stop jailing 10-year-olds': 12-year-old Dujuan Hoosan addresses UN on Australia's youth detention laws
A 12-year-old Indigenous boy from Australia's Northern Territory is believed to be the youngest to address the United Nations Human Rights Council in Geneva.
Twelve-year-old Indigenous boy Dujuan Hoosan has appealed to members of the United Nations Human Rights Council to help bring to an end the jailing of 10-year-old children in Australia.
"I want adults to stop putting 10-year-old kids in jail," he said before the council.
Dujuan said Indigenous-led education and an emphasis on retaining Indigenous languages are key to keeping Indigenous youth out of jail.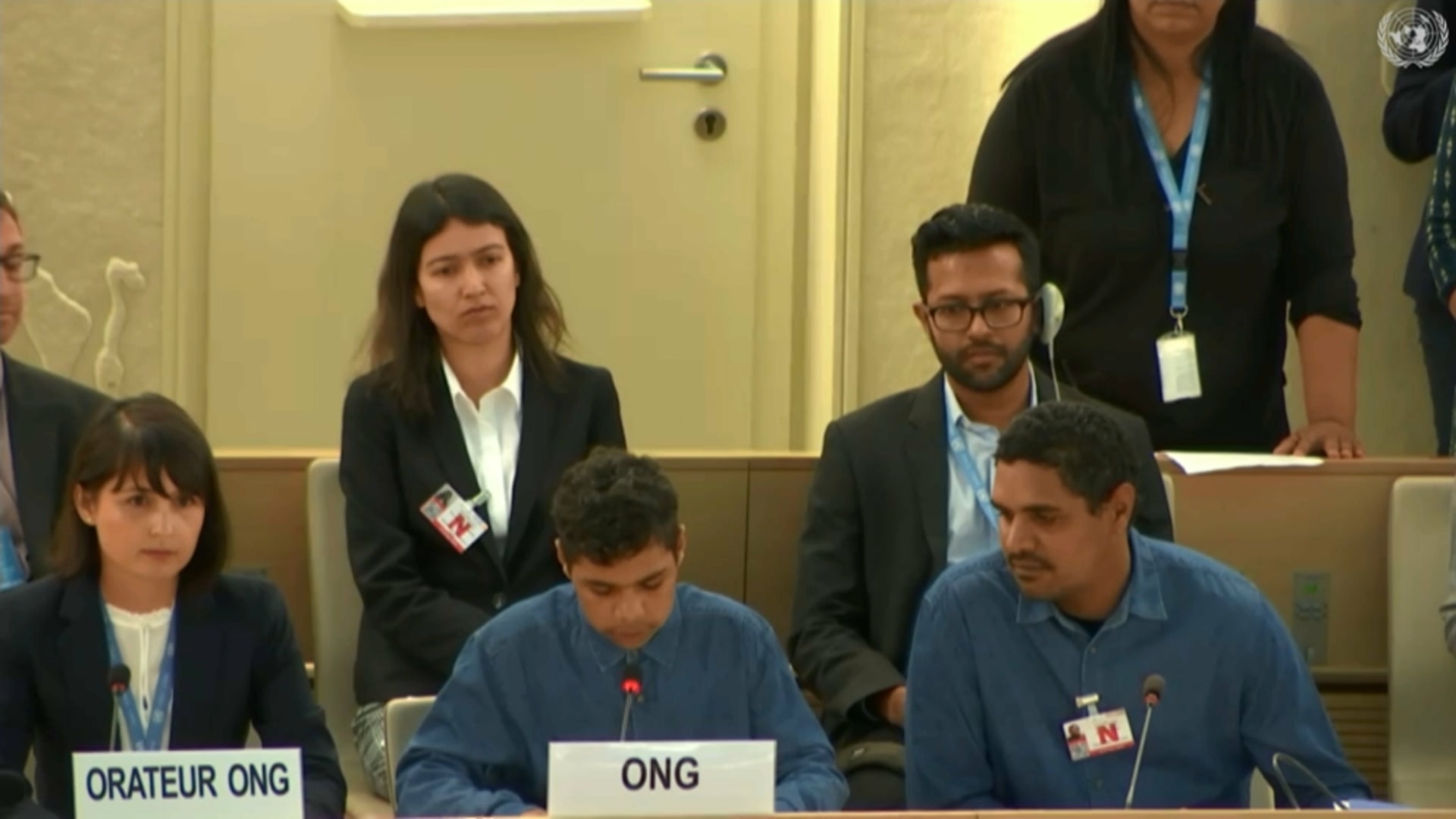 "I want my school to be run by Aboriginal people. I want, in my future, to be able to learn strong culture and language."

"It is about our dreams, our hopes and rights. I hope you can make things better for us."
From the Northern Territory, Dujuan said he had travelled to Geneva in frustration with what he described as the inability of Australian political leaders to listen to his story.
"I come here to speak with you because the Australian government is not listening. Adults never listen to kids like me, but we have important things to say."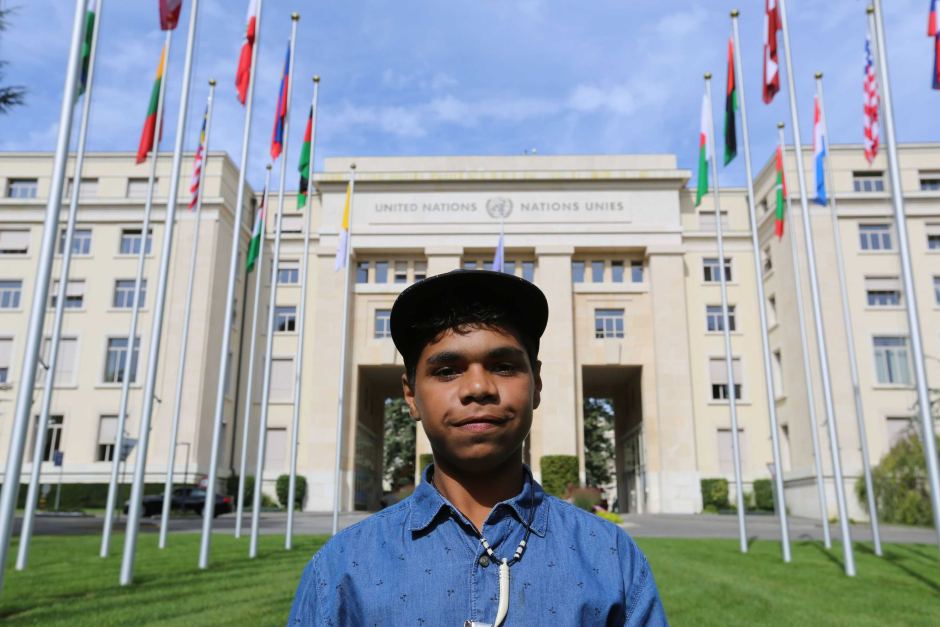 Two years ago, Dujuan reached a turning point.
He was skipping school and found himself in trouble with the police.
"I felt like a failure at school," he told the council. "I was always worried about being taken away from my family."
After an altercation with the police, he nearly ended up in jail.
But his family intervened and he was taken out of the school system. He was put in touch with his cultural roots by learning about the land and healing knowledge passed down from his grandfather.
"I was lucky because my family, they know I am smart. They love me. They found a way to keep me safe."
Of Arrernte and Garrwa descent, Dujuan said the experience has helped him find his own voice and given him purpose.
His journey is featured in the documentary In My Blood It Runs, which examines how Australia's education system struggles to take account of Indigenous history and learning.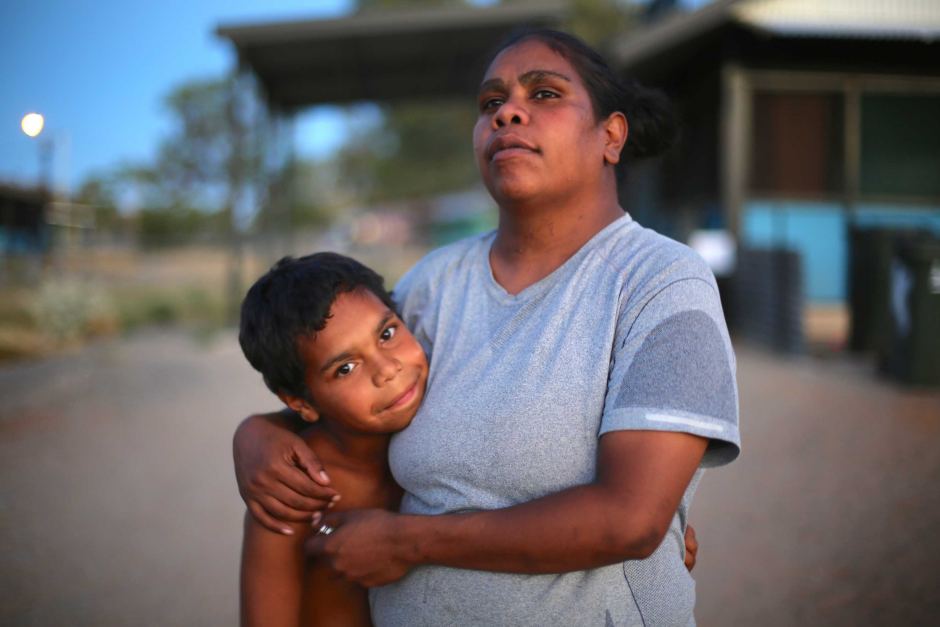 "It [the documentary, my story] is about our dreams, our hopes and rights," the 12-year-old said in his closing remarks.

"I hope you can make things better for us."
Push to raise the age of criminal responsibility to 14
All states and territories in Australia have laws that allow the incarceration of 10-year-old children.
This is despite a 2017 recommendation from the Royal Commission into the NT youth justice system, calling for the age of criminal responsibility to be lifted to 12.
Of the nearly 600 children incarcerated in Australia each year, Aboriginal and Torres Strait Islander kids are over-represented. Close to 100 per cent of the youths in jail in the Northern Territory are Indigenous Australians.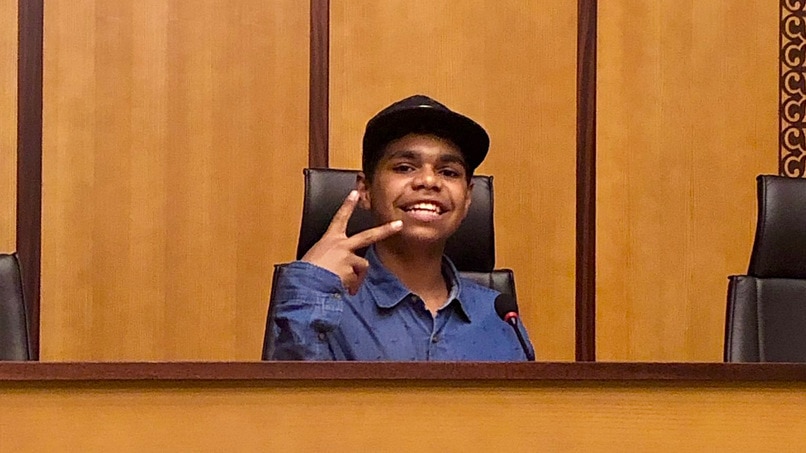 Dujuan said he would like to see the age increased to 14, in line with the position of the Australian Medical Association, the Law Council of Australia, the Human Rights Law Centre and Amnesty International.
These groups argue the age of criminal responsibility in Australia needs to brought into line with international standards and law.
Advocates cite examples in countries such as Norway, Finland and Sweden where the minimum age of criminal responsibility is 15. It is 18 in Brazil, Peru and Uruguay.
---
This article was written by Biwa Kwan and first appeared on the SBS Website.